Khmerican's 2nd Annual Must Watch List for 2013 is an opinion-based photo essay of Khmer America's leading public figures compiled by Co-Founder and CEO, Phatry Derek Pan.
12. CAMBODIAN STUDENT SOCIETY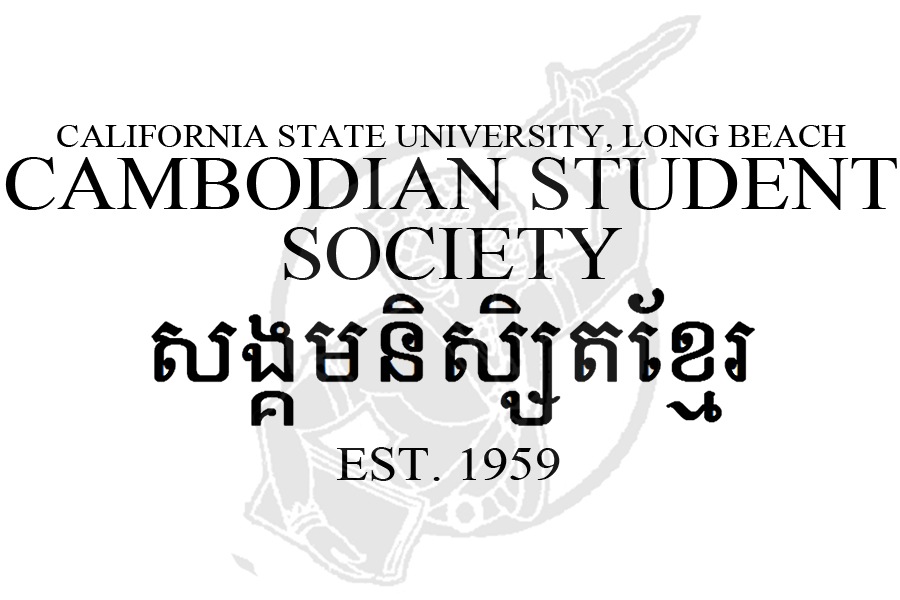 12. CAMBODIAN STUDENT SOCIETY
Launching Khmerican's second annual watch list is the oldest Khmer student organization in the U.S., the Cambodian Student Society (CSS) at Cal State Long Beach. According to the Cambodian Community History and Archive Project, the organization started in 1959 and served to support the growing number of international Khmer students who studied at the university. In 1962, club president San Ramjek renamed the organization as the "Cambodian Student Association." Today, under its current name, CSS remains a recognized presence within the community, led by outgoing president Marian Na, who oversees a group of 100 active members. Their wildly popular culture show garners a sold-out audience of over 1,000 each spring.
11. KOSAL KHIEV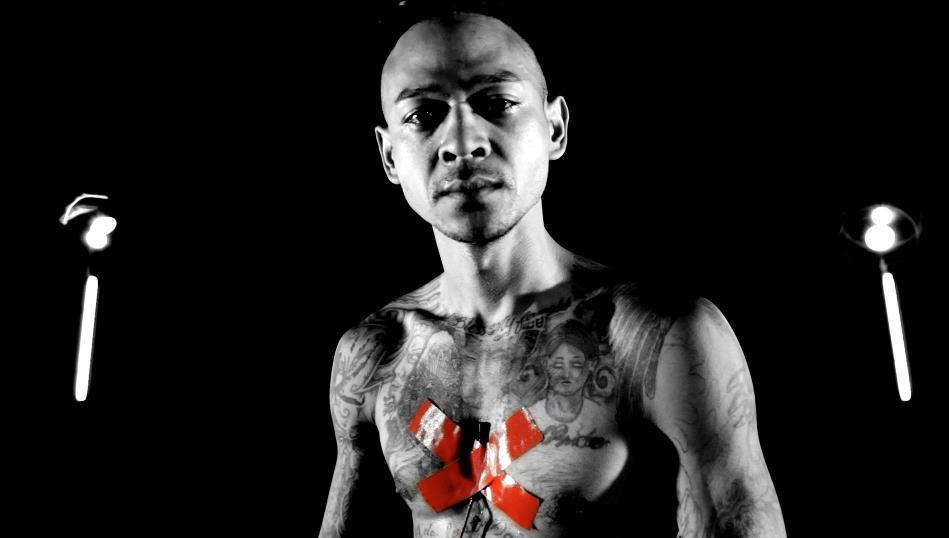 11. KOSAL KHIEV
In 2012, no performance artist made a bigger splash internationally than the exiled Khmer American poet Kosal Khiev, now based in Phnom Penh. Studio Revolt's first artist-in-residence performed at TEDxPhnom Penh in October 2011, represented Cambodia as a Cultural Olympiad for the London games last summer, and took the award for Best Poem Performance on Film for "Why I Write" at the Berlin ZEBRA Poetry Film Festival in October of 2012. Upon completion of the Germany trip, Khiev became one of 15 contributing authors in a new anthology titled Phnom Penh Noir, edited by Christopher G. Moore, which also includes Roland Joffe, director of "The Killing Fields." For 2013, Khiev will continue to showcase his literary skills through performances in the Phnom Penh art scene, the upcoming Angkor Art Expo, or wherever his Cambodian passport allows. He is also working on completing an as yet untitled documentary directed by Masahiro Sugano.
10. APRIL NHEM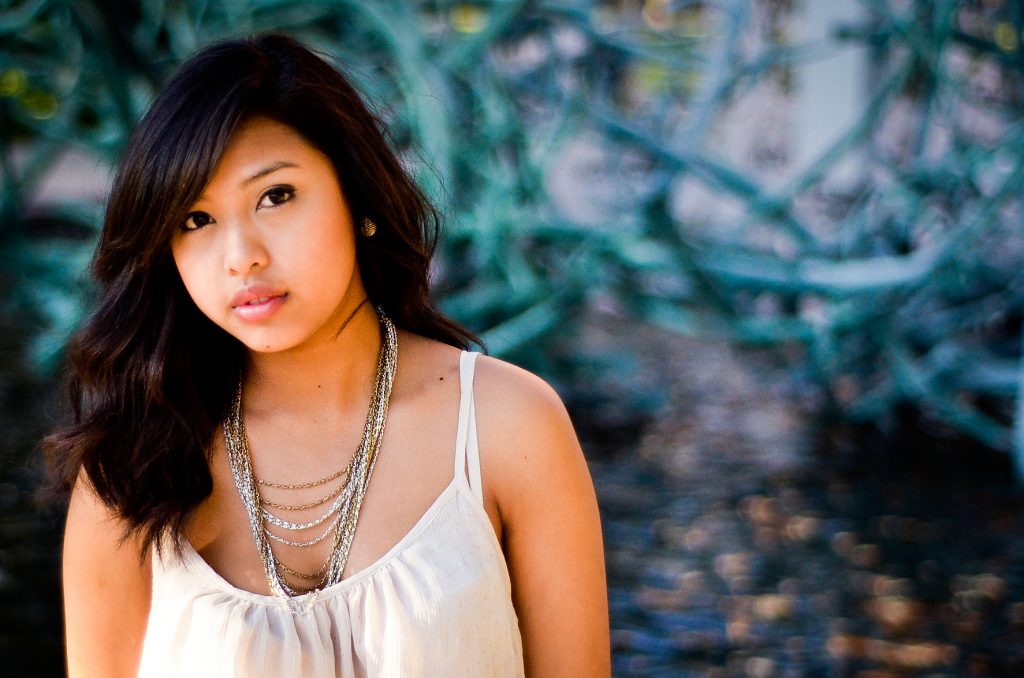 10. APRIL NHEM
With her youth, talent, and style, 19-year-old April Nhem is perhaps the most marketable rising musician in Khmer America. In 2012, the Long Beach-based pop singer rocked out at a few college campuses, released a handful of viral-ready songs, and featured in a music video with YouTube celebrities Lil Crazed and Joanlee. As a result, Nhem's popularity continued to grow both domestically and internationally. "I received many messages to perform in Cambodia," Nhem told Khmerican. "But I am not ready yet." With an upcoming full-length album titled "Dreamer" to be released soon, management agents knocking on her door, and a buzzing fan base on Tumblr and Facebook, we expect 2013 to be Nhem's breakout year.
9. CHRYSANTHE TAN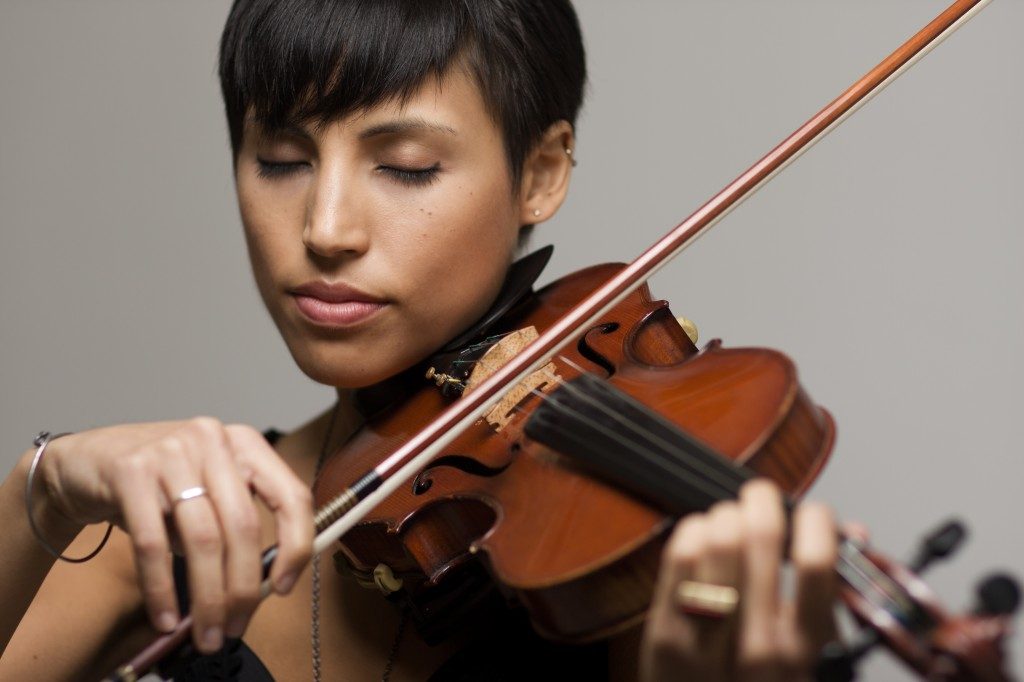 9. CHRYSANTHE TAN
Chrysanthe Tan is the most well-rounded artist on this year's list. The twenty-something half Khmer, half Greek ("Khmeropean") musician found that the skill came naturally to her at a young age. "My first instrument was the piano at age 7," Tan told Khmerican. "I felt like the luckiest girl in the world. At age 8, I discovered the violin, and when my parents let me play that too, I felt like I had truly hit the jackpot. Soon afterward I started playing guitar as well. I loved it all." Recently, she finished writing nine compositions for "Eleanor Rigby," a soon to be released short film by critically acclaimed writer/director Sarah Louise Wilson. Tan goes on tour seasonally to ten U.S. cities with three Latin megastars, most notably Marc Anthony, playing the violin as part of the orchestra. Tan performs regularly as a member of the Los Angeles folk rock band Tommy Santee Klaws and occasionally sings. She also enjoys a vegan diet. For 2013, Tan's portfolio will be further enriched by her regular appearances on Fox's "Glee" as a member of the McKinley High School band and the unveiling of her first solo album later this year.
8. PETE PIN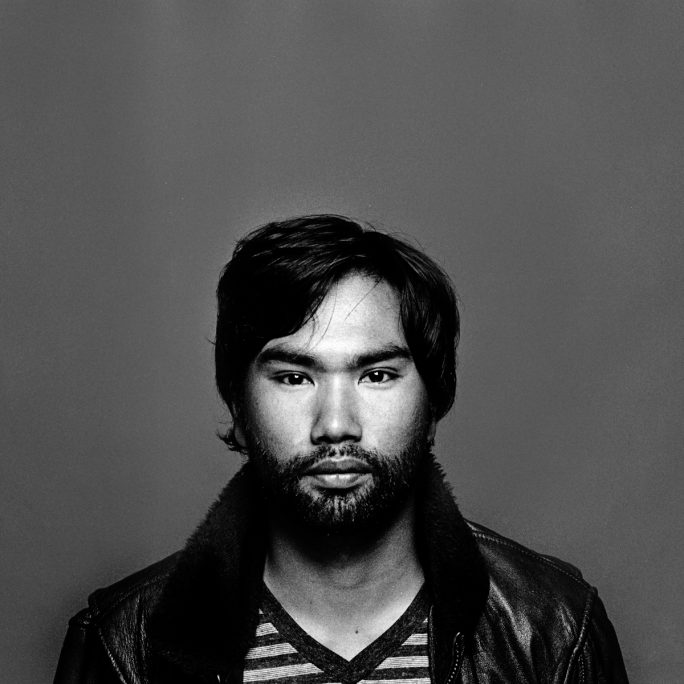 8. PETE PIN
While most of us like to take snapshots of pretty food and pretty faces, Brooklyn-based documentary photographer Pete Pin captures the gritty realities of the Cambodian American experience. The Stockton high school dropout-turned-graduate of University of California, Berkeley (magna cum laude) brought his photo essay about the Cambodian diaspora to the front page of the New York Times, multiple college campuses, and even back to some the subjects' homes. "With this specific topic," as Pin explained the project in an April 2012 podcast by Khmerican, "it's incredibly difficult. And that's because it's so psychological. What I am trying to photograph is not something viscerally visual—the idea of what it means to be Cambodian." Upon graduation from the International Center of Photography, he was named a 2011 Magnum Foundation Emergency Fund Fellow and added to the Emerging Talent roster on Reportage by Getty Images. For 2013, expect Pin to take the stage at two April events in NYC's multi-million dollar arts festival known as Season of Cambodia and the expansion of the project to other pockets of Khmer America.
7. HELLA CHLUY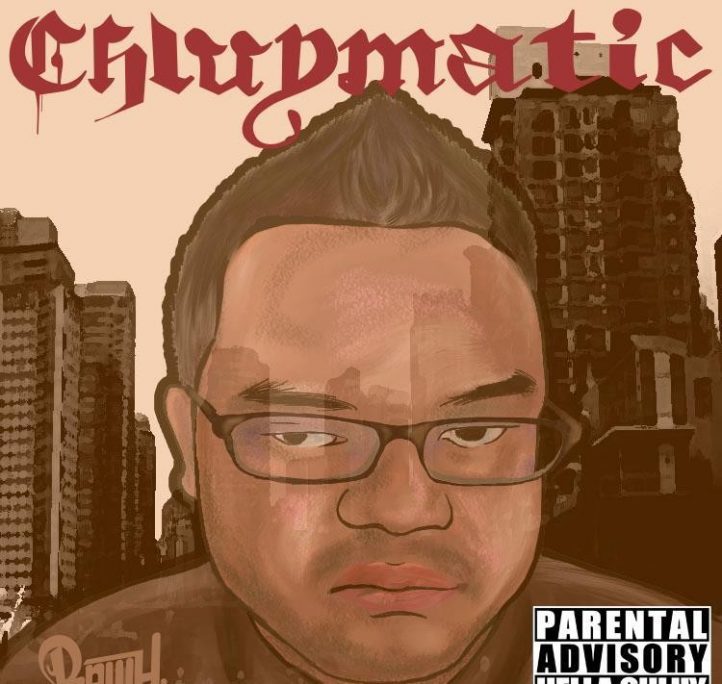 7. HELLA CHLUY
Who knew five Khmer words could go insanely viral—touching and reaching generations of diaspora Cambodians all across the globe. The trilogy "Sh*t Cambodian Folks Say" introduced Hella Chluy's now famous phrase "Haing jong tver gang eh?" (Do you want to be a gangster?) has garnered over 537,877 YouTube views at the time of this publication. "It happened so quickly—it feels so unreal," said the Brooklyn-based entertainer/creator Phanit Duong. "We didn't expect 12-year-olds and grandmas saying it." In keeping with the demand and popularity from his audience, Duong released an 11-track mix tape of music parodies titled "Chluymatic" in July 2012. His remakes of Justin Bieber's "Boyfriend" (Boypren) and PSY's "Gangnam Style" (Sra Tnam Style) have accumulated 161,325 and 131,552 views, respectively. For 2013 and beyond, we anticipate more Chluy-style video parodies, more apparel releasing, and a U.S. west coast tour. But one thing is certain: Duong will continue holding the undisputable title of funniest man in Khmer America.
6. VIRAK OU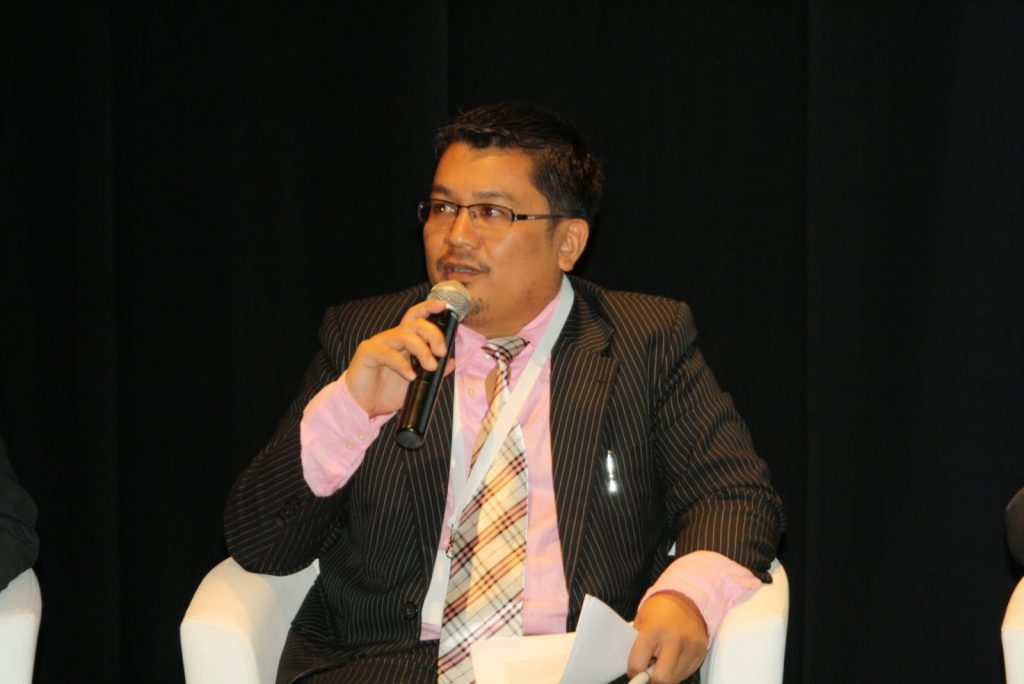 6. VIRAK OU
For almost a decade, Fresno-raised Virak Ou has quietly moved up into the spotlight, becoming the most outspoken Khmer American public figure regarding Cambodian affairs. Based in Phnom Penh, Ou is the president of the Cambodian Center for Human Rights, a leading human rights non-profit, non-governmental organization. Ou's unapologetic, straightforward demeanor and ability to mass mobilize like-minded organizations and individuals was acknowledged when he won the Reebok Human Rights Award in 2007. That year he led a civil society campaign for freedom of expression and for the release of human rights advocates imprisoned for criticizing the Cambodian government. Heavily quoted by the local and international press, Ou will remain a voice of moral authority on national issues such as the upcoming Cambodian election, economic development, and human rights.
5. VAN KEO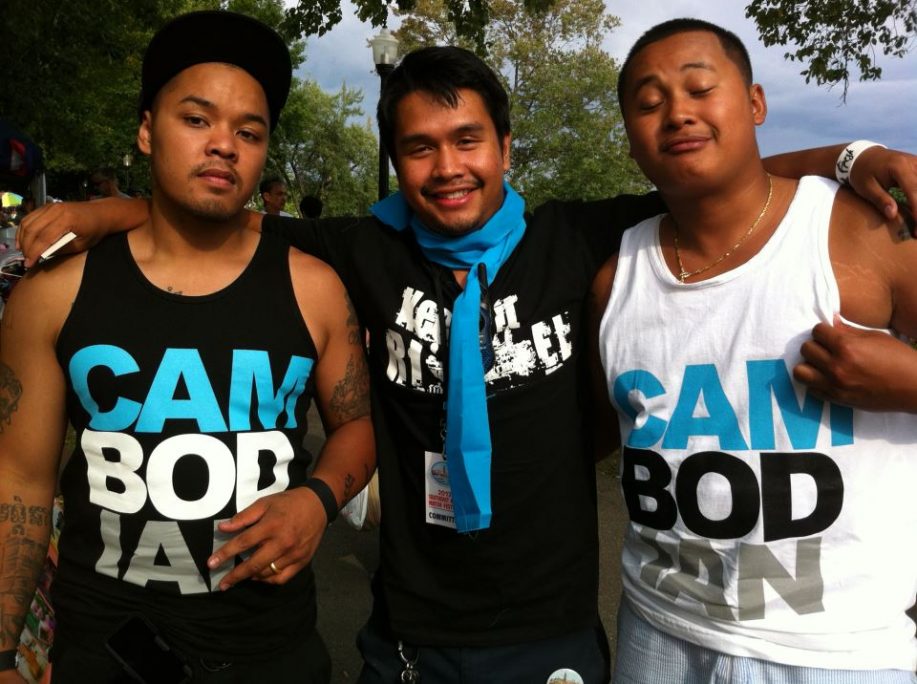 5. VAN KEO
In the saturated market of apparel entrepreneurs, Van Keo's (left) CamboFresh Clothing empire is the most impressive–in popularity, reach, and growth. In 2012, the Jacksonville-bred CEO pushed over 6,000 T-shirts, 800 snapbacks, 100 beanies, and 1,000 hoodies/crewnecks. His urban gear is worn and endorsed by many Khmer American entertainers, notably rappers JL Jupiter, Memo Jackson, Phinale and models Ellie Roxx and Siray Kong. But Keo's enterprise is more than just a story of hard work and success, which made his relocation to San Jose possible for expected first mortgage next year. His clothing has had the side effect of raising public consciousness about Khmer American youth and identity. Decades of the Cambodian refugee experience were filled with images of gangs and violence, but CamboFresh brought hip designs that encourage one to "Know Your Roots" and made it cool to be Khmer. To that effect, no recipient has influenced Khmer youth more than CamboFresh. For 2013, expect the four-year-old company to continue to swag out Khmer America with more threads and expand in accessories.
4. SOPHEAP PICH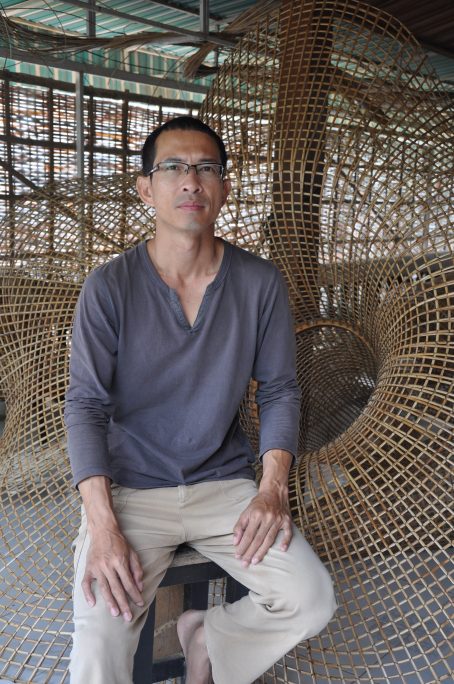 4. SOPHEAP PICH
No one has brought modern Cambodian art to wider public consciousness than Sopheap Pich, debuting on our list for this year. The 41-year-old artist hailing from Battambang has been a major player in shaping and reviving the Cambodian art scene both locally and internationally ever since he returned to the country in 2003. With then partner Linda Saphan, he formed Visual Arts Open to nurture local artists and organized an exhibition that was the first group art show in Cambodia since the 1960s. Since then, Pich's work, mainly sculptures and paintings, began exhibiting in neighboring countries and overseas. In fact, according to the New York Times, Pich holds the world record for a Cambodian artist for a commissioned piece, one valued at $50,000 that was created for a university in Saudi Arabia. Formerly studying at the University of Massachusetts and the Art Institute of Chicago, the artist primarily uses rattan and bamboo, constructing organic open-weave forms that are solid yet ethereal, representational and abstract. Much of his opus is inspired by elements of human anatomy or plant life. In April 2013, Pich will take center stage at his largest venue yet, New York's Metropolitan Museum of Art, displaying 10 works as part of the citywide arts/culture festival Season of Cambodia.
3. PRACH LY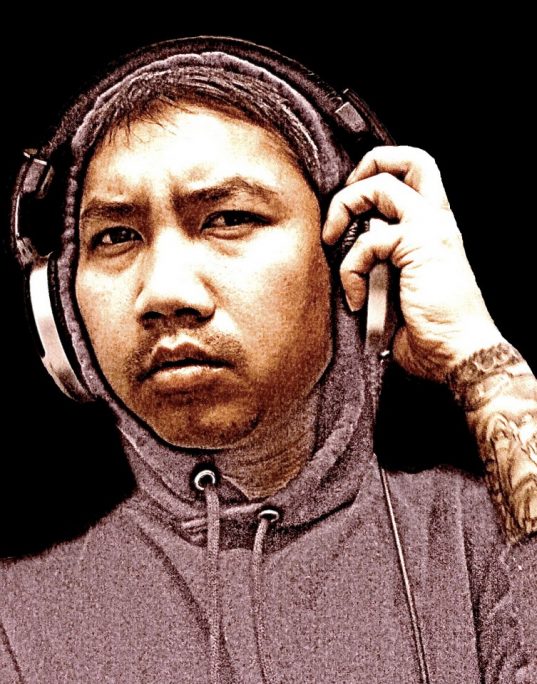 03. PRACH LY
Long Beach-raised PraCh Ly continued to dominate headlines in 2012, returning to our list for the second year in a row—a feat accomplished by only three other nominees. Despite making way for new top acknowledgments, the most established rapper in Khmer America seems to have redirected his attention toward cinema production, keeping his impending fourth album, "Control+Alt+Delete," relatively low-key. In fact, his latest creative output can be found in many recent films and documentaries, such as Caylee So's "Paulina," Asaph Polonsky's "Samnang," and Kalyanee Mam's "A River Changes Course," along with future projects by Daron Ker and other filmmakers. Furthering his reach in the independent movie scene, Ly and associates are organizing the Cambodia Town Film Festival, an ambitious two-day event scheduled for early September 2013 in Long Beach. The festival may also bring Ly's directorial debut, an untitled horror film, which is to be added to his expanding portfolio of accomplishments. But what is clear for Ly in the remainder of this year is resuming his lectures/performances at U.S. college campuses and producing new music. Also watch for him to make an appearance on the Travel Channel, rumored to be in one of its most popular food shows.
2. PHANITH RAMA SOVANN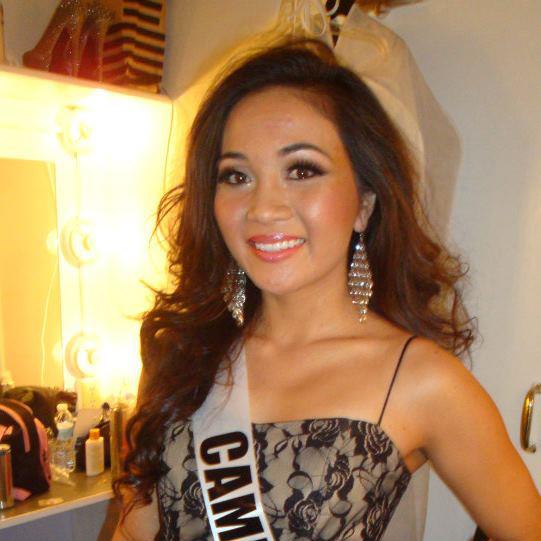 2. PHANITH RAMA SOVANN
Khmer America's sweetheart, Phanith Rama Sovann, maintains her status on our list and becomes Long Beach's foremost must-watch nominee for 2013. Last year, the multi-talented 24-year-old artist performed on at least 15 different stages—ranging from non-profit community organizations and college campuses to her own benefit concert in September, packing 600 people into the local restaurant venue. In many of these performances, she was adorned with a sash proclaiming her "Miss Cambodia 2013," which was her title in the Queen of the Universe Pageant held in Beverly Hills on January 27th. "Although I did not advance to the top five, I believe we accomplished a lot," Sovann told Khmerican. "My appearance in the pageant helped spread awareness about Cambodia and its issues to a wider audience." Sovann will still carry out other pageant-related duties for 2013, namely participating in charitable events in the Los Angeles area. But her brightest prospect for stardom remains her music, which goes beyond her occasional acting and modeling gigs. In late December 2012, she ended a one-year stint at the Cambodian Association of America to focus more on becoming a full-time independent artist. In 2013, we expect the release of her first English-language EP album, tours of more U.S. cities, and perhaps good news in March from NBC's America's Got Talent.
1. LAURA MAM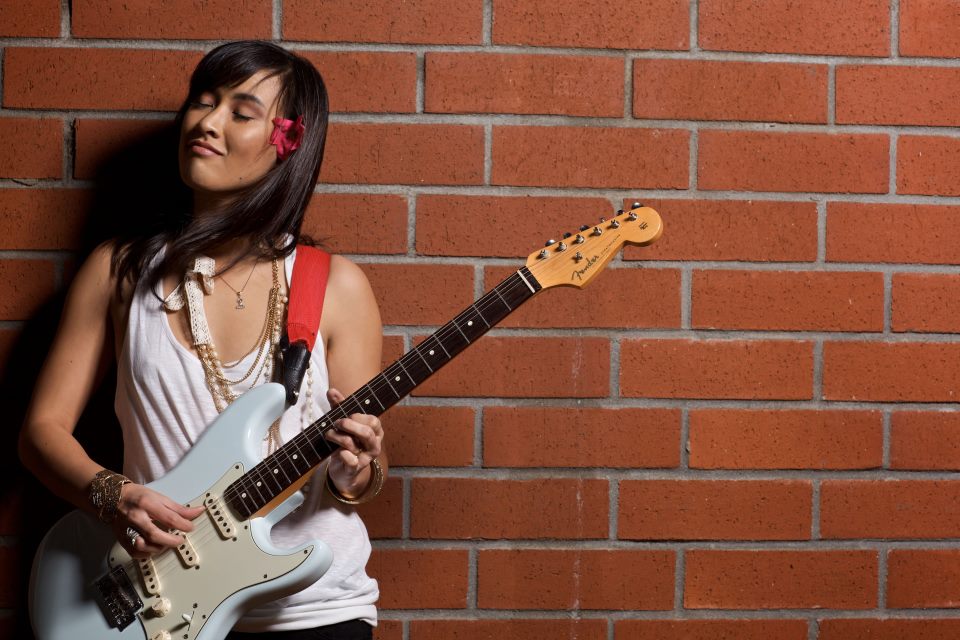 1. LAURA MAM
This year's top honor goes to the fastest-rising musical talent in Khmer America—San Jose's Laura Mam. While at UC Berkeley, Mam was already generating buzz in her circle, performing for YouTubers and at Cambodian Student Association functions. But not until the formation of the all-girl quartet The Like Me's did Mam's music career blossom. Two viral tracks in 2010 paved the way: an original Khmer song, co-written by Mam's mother Thida Buth, called "Pka Proheam Rik Popreay" released in February and a hip remake of the Pan Ron classic "Sva Rom Monkiss" in April. And 750,000 views later, Cambodia began calling, not once but three times—for concerts, interviews, and public appearances. With her trailblazing success, Mam has prompted a new willingness in Cambodia to open its arms to creative professionals from overseas. "My goals as a Cambodian American artist are focused solely on bridging the gap between the diaspora and our homeland," Mam told Khmerican from Paris. "It is my greatest hope that others can follow a bridge I am building so that those abroad can come and fall in love with our home in the same way I did and contribute to national growth." With that goal in mind, Mam has set 2013 as the year to return to her acoustic roots; she will be going public with a new solo EP in English and Khmer. Furthermore, Mam has a Khmer documentary project in the works to be announced shortly. "This year is definitely going to be a 'work hard, play hard' kind of year," said Mam.