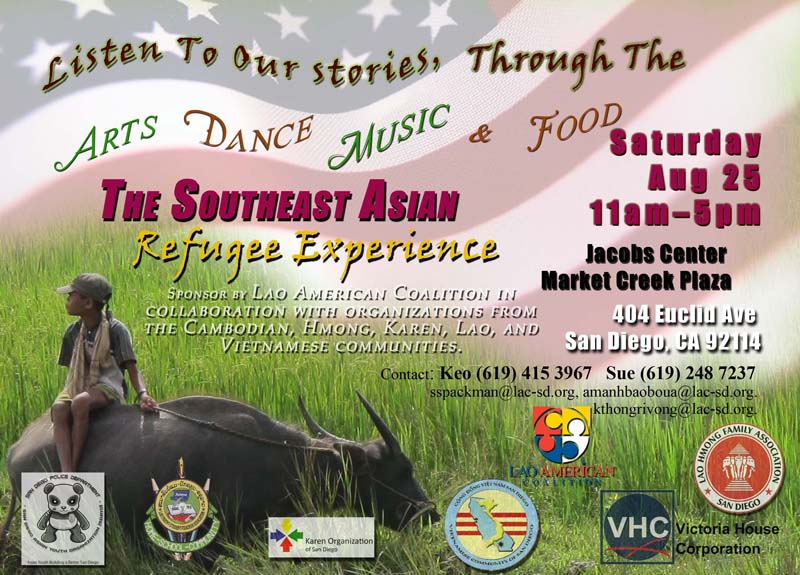 San Diego, CA—The Southeast Asian American community is proud to present the 1st Annual Southeast Asian Refugee Experience. This free, family-friendly event features storytelling through different forms of art such as dance, spoken word, and other performed narratives. Additionally, there will be entertainment, cultural activities/exhibitions, guest speakers, sports tournaments, retail and informational booths, food, and so much more. All of these activities will relate to the theme of immigration and the plight of refugees.
The goals of the event are to share with and educate the larger community about the Southeast Asian peoples' unique experiences, to preserve the memories for our children, to heal the wounds of war that many of our communities continue to suffer, and to build intergenerational and intercultural bridges. There will be stories of hardships endured while journeying to America, tales of courage and hope, and expressions of gratitude for the opportunities that are only available in this great country. This event will also place a spotlight on a controversial issue facing Cambodians and Southeast Asian Americans in general, which is deportation under stricter U.S. laws. Convicted felons without legal citizenship are at risk of being sent back to their country of origin, even if they have never lived there before, or only knew it for a short time.
The event will feature guest speakers including David Ros, 38, of Long Beach, California, a spokesperson for the One Love Movement, an organization advocating the rights of permanent residents who are facing deportation. The mission of the One Love Movement is to keep families together and allow them to live with dignity and respect. "We believe everyone deserves a second chance in life," said Joe Hanzsum, 32, a community organizer for One Love, which he helped establish in Philadelphia over three years ago.
Ros is a Cambodian American father working as a medical transporter. He is also a former felon who served 19 years in prison for a crime he committed as a teenager. While incarcerated, he reflected on the poor choices he made in his life. He used that time to educate and engage himself in institutionally approved programs, such as the inmate-founded Asian Pacific Islander Cultural Awareness Group and various committees and liaisons. He is awaiting deportation to Cambodia, a war-torn country he escaped at age 5. He subsequently spent three more years in the hunger and filth of a refugee camp.
"People still misunderstand the issues," said Ros, "Many former felons have already reformed their lives," he said. "They are taxpayers, have families and mortgages, and some are even activists in the community."
Ros also voiced his concerns for the future of his 10-month-old son. "Many of those affected by the 1996 law are residents who have served their time, have started a family, built lives, careers, [and] own homes. Because of deportation, families are torn apart,  bread-winners are shipped off, and children are being separated from their parents. As a result, many of the broken families are unable to support themselves. What type of man will my son become if I am deported?"
At today's event, Ros will stand in solidarity with other members of the Southeast Asian community as he spreads awareness of this intensely personal and political/legislative issue. Indeed, the family setting should serve to make his activist message all the more resonant.
Despite his uncertain future, Ros remains focused: "My goal is to build a team of supporters in Long Beach, California to work toward the vision and goals of the One Love Movement. I feel that Long Beach is ripe for activism. The first thing to do is collect members to spearhead the movement."
"Southeast Asians are strong people. We are a fighting people, not because we like war, but because we have not been allowed to live at peace. We must figure out ways to reignite the fighting spirit," said Ros.
According to the 2012 US Census, there are over 2.5 million residents of Cambodian, Laotian, Hmong, and Vietnamese descent. These Southeast Asian groups share a history of struggle, which the Refugee Experience event will showcase. Many Southeast Asians are recent immigrants, who are low-income, underserved, and must overcome language barriers. Their struggle is overshadowed by the success stories of other Asian Pacific Islander groups. "There is a great need for disaggregated data to dispel the belief in the so-called 'model minority' myth," said Adam Manhbaoboua, one of the primary organizers and chairman of the Lao American Coalition.
The Refugee Experience event and collaboration is the first of its kind in San Diego, with other partner organizations including Victoria House Corporation, Karen Organization of San Diego, One Love Movement, San Diego Asian Youth Organization, Lao Hmong Family Association, Vietnamese Community of San Diego, and Lao Parent Student Teacher Association. The number of attendees is expected to exceed 300.
WHAT: Southeast Asian Refugee Experience
WHEN: Saturday, August 25, 2012 from 11 am to 5 pm
WHERE: Market Creek Plaza, 404 Euclid Avenue, San Diego, California 92114
For more information, visit www.laoamericancoalition.org/SEAExperience.html or call Adam Manhbaoboua, (619) 504-9546; also see www.onelovemovement.com.
___
Sophin Zoe Pruong-McCreery is a staff writer for the Khmerican.  Her blog is http://khmericana.blogspot.com.