Cambodian films in the 60s was often praised by the Khmer people during the Sangkum Reastr Niyum era, at that time the writing and production was comparable to those of foreign films.
Speaking at the Next Camp DMC in Cambodia, Mr. Pok Borak, the Head of Cinema and Culture Promotion Department said that in Sangkum Reastr Niyum, foreign films such as Chinese, American and Indian films were also in the country; however, there were more people supporting Khmer films more than that of today.
Mr. Pok Borak said at the event that in the past, the reason that made Khmer films prosperous and famous was the good quality of the film, which made the public liked both the plots and the acting. He also added that human resource is the most important factor in this field.
Mr. Chhay Bora stressed on the 4 main reasons that made Khmer films in the 60s more famous those of today.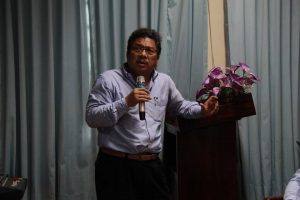 Reason 1 is the limited time of TV broadcasting. If we looked at that era, we could see that the time for TV broadcast was only three hours, which was the reason why most movie goers went to see the films in the cinema for their additional entertainment.
Reason 2 is the low level of foreign language and the techniques of voice dubbing, meaning that, during that time, most imported foreign films were difficult to understand and translate properly.
Reason 3 is there was no technology for entertainment like nowadays. In other words, there was no streaming services, such as Netflix and Hulu. The only way to consume new entertainment was to go to the cinema.
Reason 4 is the tax incentives from the government.
Noted that there were a number of movie theaters in Sangkum Reastr Niyum, which weren't located only in Phnom Penh city, but there were also in other provinces. Mr. Hor Daro, the founder of Cinema Project, said that there were more than 30 cinemas in Phnom Penh city during the Sangkum Reastr Niyum era.