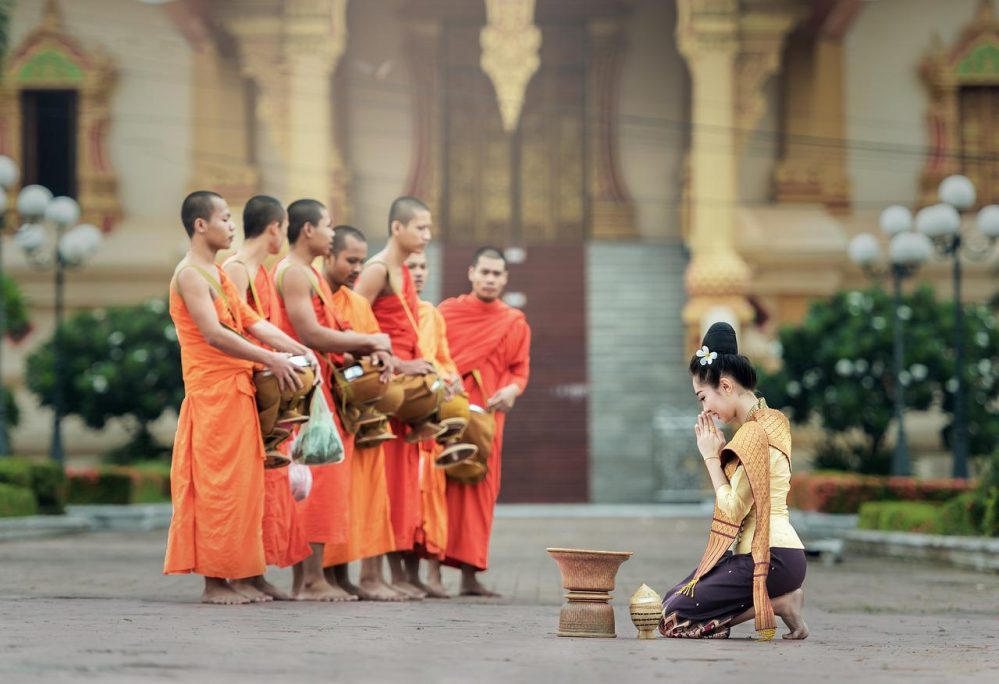 If you ever travel to visit Cambodia, checking out the famous Angkor Wat ruins along with the beauty and charm of the simple khmer lifestyle is a must. However, there is no better way to get a good sense of any country you visit than trying their food, especially in a country filled with lively markets, street vendors, and open-front restaurants wafting incredible smells of traditional Cambodian food to lure in hungry passerbys. Tasting traditional dishes that have been around for hundreds or even thousands of years helps you connect to the culture that goes further beyond seeing, touching, or feeling. Although Cambodian food is not as well-known internationally, they make some of the best simple yet complex foods you can ever try. Some Cambodian dishes are influenced by neighboring countries such as Vietnam and Thailand.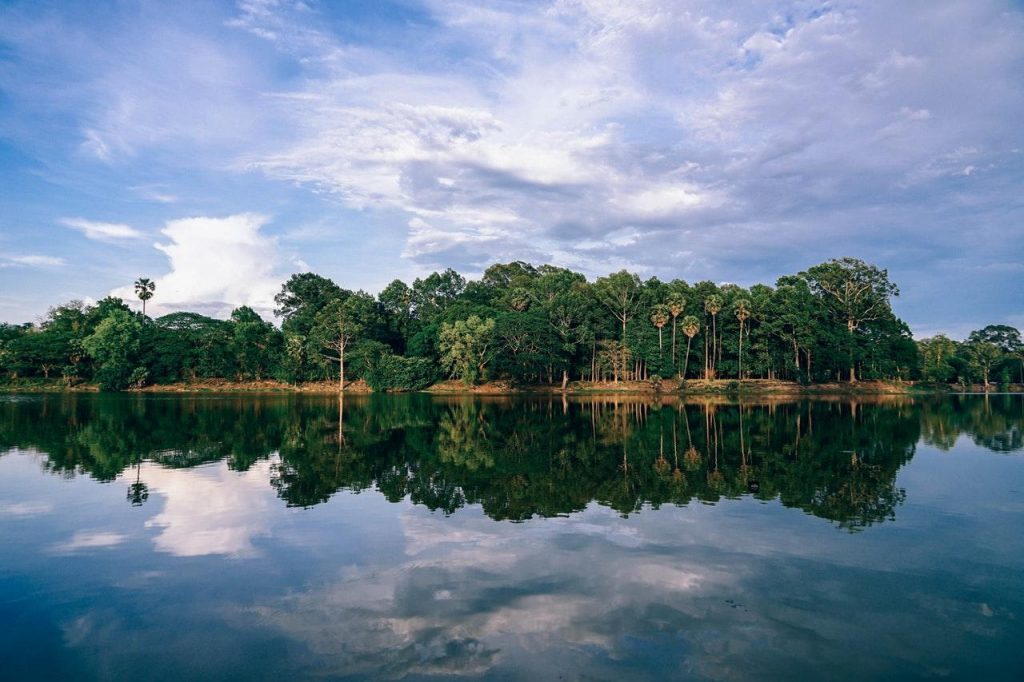 Cambodia is abundant in freshwater fish from the their two main water sources, the Mekong River and the Tonle Sap Lake. A typical Cambodian meal will have a main dish, soup, salad, vegetables, and rice with sticky rice and fresh fruit for dessert. You can expect a lot of contrasts in Cambodian food – from sweet and bitter to salty and sour. Condiments and and side plates are a must in Cambodian culture – small plates of herbs, greens, peppers, limes, palm sugar, and sauces (depending on your dish) ready on the table for you to complement your delicious meal. I know you're salivating by now, so let's take a look at the 7 best traditional Cambodian dishes below.
1. Fish Amok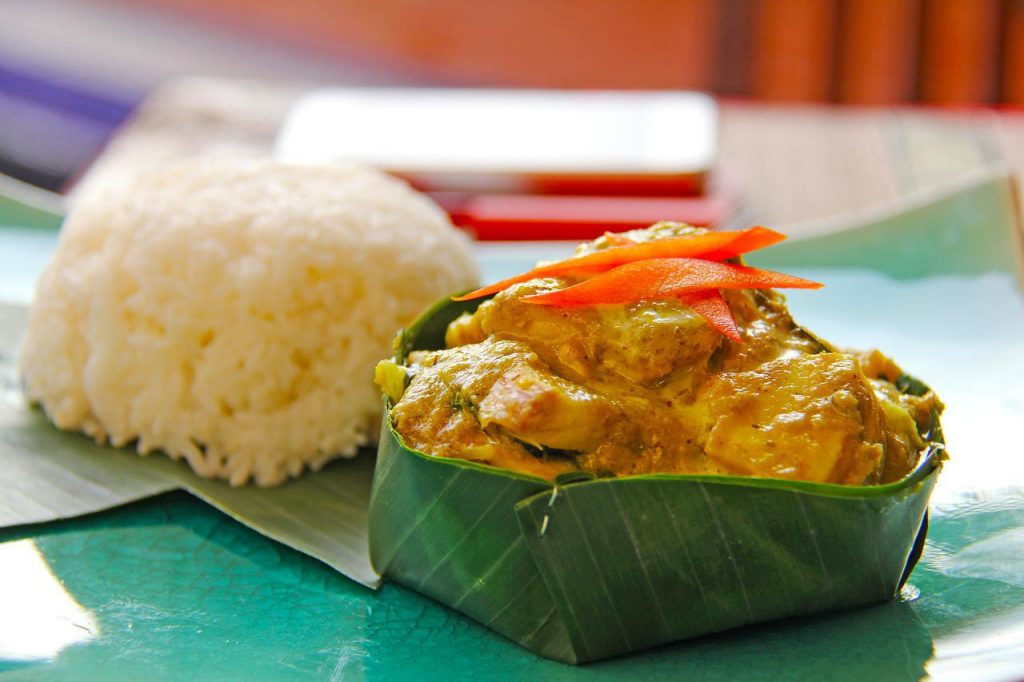 Because fish and rice are abundant sources of food in Cambodia, you can expect these two components in a lot of their dishes, such as this. Fish amok is considered the most popular Cambodian dish which is made from fish, coconut milk, and curry paste. The ingredients are combined together, wrapped in banana leaves topped with coconut milk and steamed. To enjoy this delicious dish, serve with rice and a fried egg (optional). You can also substitute the fish for beef, chicken, or tofu instead.
2. Beef Lok Lak
This meaty dish is Cambodia's take on Vietnam's Bo Luc Lak "shaking beef" dish. The khmer version includes thinly slices of tender beef stir-fried with onions served with lettuce, fresh cucumbers, tomatoes, and rice and an optional fried egg.
3. Samlor Machu Trey

This popular traditional khmer dish is served in many Cambodian households and restaurants not only because it is simple to make but also very tasty. Samlor Machu Trey is a sweet and sour soup that has fish, lemongrass, celery, garlic, bean sprouts, tamarind juice, pineapple and seasoned with fish sauce, sugar, and salt. Garnish with fresh green herbs and chili before serving.
4. Char Kroeung Sach Ko
Next on our list, we've got this well-known stir-fry dish that is found throughout Cambodia. To make this mouth-watering meal, heat oil in a pan with garlic and beef and stir-fry until beef is tender. Then, add lemongrass kroeung mixture, chopped red peppers and onion into the mix. Kroeung mixture made up of marinade and spice paste is a staple in Cambodian cuisine, with many different combinations and types.
5. Nom Banh Chok
This khmer noodle dish is considered as breakfast for many Cambodians to start to their day. Nom banh chok consists of rice noodles with lots cucumber, mint, green beans, banana blossom, and bean sprouts and green fish gravy on top. This dish is loved by locals and tourists and is also very similar to the Thai dish called kanom jeen. You can find this dish sold in streets stands all over Phnom Penh early in the morning for less than a buck! If you don't catch this dish early enough, they are also sold as a mid-afternoon snack, just find the vendors carrying the ingredients on a pole across their shoulders.
6. Twa Ko
This next Cambodian classic is sausage made of beef or pork marinated in different spices. These tasty homemade sausages typically contain about 20-25% fat and is typically prepared by grilling, barbecuing, or pan-fried with minced garlic, oyster sauce, and fish sauce (optional to add chillies for spice). Twa ko can be enjoyed on its own cut in small pieces, or served with a side of rice and steamed vegetables.
7. Bai Sach Chrouk
This traditional khmer dish is consists of slowly grilled coconut milk-marinated pork and served on broken rice with a small side of clear chicken broth and vegetables. You can find this Cambodian street food pretty much anywhere, especially in busy neighborhoods and even in upscale restaurants. Pair this tasty treat with a nice, cold iced coffee – it's absolutely delicious.
If you are in Cambodia and unsure what foods to try first, let the delicious wafting smells from the open-front restaurants, and street carts make the choice for you. You've got to try everything at least once to get the full experience of the Cambodian culture. The bold and rich flavors of khmer food will leave you wanting more as you try the contrasting yet complementing flavors of the amazing Cambodian food that will not fail to tantalize your taste buds. Let the beauty and wonder of this charming country with beautiful traditional gold garments and the khmer people leave you with one of the most memorable and authentic food experiences you will ever have.