Khmerican​: Introduce yourself.
Amy: សួស្ដី! My name is Amy Kouch, and I'm a third-year student at Stanford University​ studying Human Biology. I am passionate about art, education, health, and human rights, and I'm trying to find a way to intersect all of these interests.
Khmerican: What brings you to Cambodia?
Amy: I have a couple of reasons for being here, and I am really fortunate to have this opportunity. I came for a summer internship at Sarus​, a nonprofit whose mission is to build peace leaders and to create communities that span across borders. I am also here to pursue research regarding art and mental health in Cambodia. Lastly, I am here for family. Since this is my first time visiting, I am able to meet and spend time with family that I have never seen before, and that has been one of the most meaningful aspects of this trip.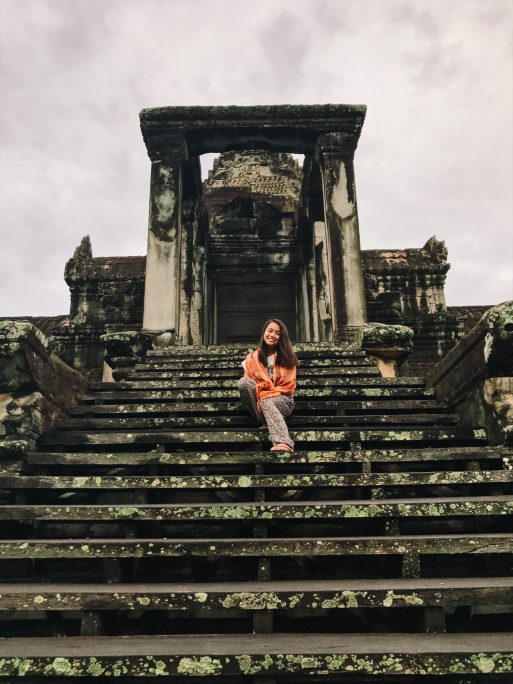 Khmerican: Share us some of your first impressions of the country, the people, the development, and the arts.
Amy: Cambodia has been nothing like I expected, and I think that's wonderful. It's funny to me that I have spent the last five years studying, researching, and talking to people about Cambodia, but I truly had no idea what it was like before coming here. The country is beautiful and diverse, and everywhere I go, there is a different vibe. There is no way I can sum up Cambodia in just a few sentences or even find a way to generalize the country. It is vibrant, and there are many sides to Cambodia. What has made this experience so incredible have been the people. The people have been welcoming and open towards me, and because of this, I have been able to learn so much from them and find friends that I truly connect with. I have especially loved visiting the Kampong Speu Province, where I met some of the most warm and genuine souls. In terms of the development, I have mixed feelings, and I think it is important that I learn more about the effects of this development before forming a concrete opinion. On one hand, I think it is incredible to see innovation and creativity thriving through Khmer tech, art, and business. It is a space of passion! But, I also try to consider other factors like gentrification and what demographic can be negatively impacted by this rise.
Khmerican: How will your research on Khmer arts and mental health impact your community back in the States?
Amy: The thing about my research is that I don't know where it will lead. I came in with a lot of questions, and I am still pursuing answers. Every single day, I am learning so much from different members of the community here. But, wherever this research takes me, I hope that I will be able to give it a purpose by providing a greater understanding of mental health for Khmer people, and how we can use art to improve this.
Khmerican: Why do you think it is important for overseas Cambodians to return to their parent's roots?
Amy: I don't think you can really understand a country, a community, or a history until you are there in person. I better understand my family and where we came from—from our values to our customs to our culture. Talking to other Khmer people has also really made a difference on what I perceived to be Cambodia versus what Cambodia really is.
Khmerican: Any last words?
Amy: This may be my first time in Cambodia, but it definitely will not be my last. This feels like home, and I am grateful for every person who has made me feel this way.
—
To learn more about Amy's research, contact her directly at http://m.me/amy.kouch.