Santa Ana, CA — Those who have not met Manny Sok before would not think to look twice when passing him on the street. He has an unassuming nature, a humility of stature, and a quiet quality to his gait. When he speaks, his personable nature shines through, by way of his sparkling smile and earnest eyes. To listen to his story of resilience and persistence is to be inspired to share it.
Sok is the founder and owner of Angkor Clothing, a company his brothers and friends started from the garage of their modest home in Orange County, California. Angkor Clothing has a line of everyday casual wear and modern urban attire. His unique designs are emblazoned on T-shirts, mini-Ts, hats, bags, and bracelets. The style of his work is bold and unapologetic.
The story behind the name, Angkor, is derived from Sok's heritage as a member of the so-called 1.5 generation of refugees from Cambodia and the ancient empire they are descendants of. In the early 1980s, his family escaped the war-torn country and resettled at a refugee camp on the border of Thailand. He remembers hearing stories from his mother about the conditions the family and others had to endure before immigrating to the United States.
"We were always hungry. There was little food. We had to build our own house out of what was available… dead branches and palm leaves," said Sok. "Our kitchen was the jungle. To survive, the family ate bugs and wildlife. It was a struggle and we lived in fear."
During the 1990s, Sok lived on South Minnie Street, a crime-ridden neighborhood of southeast Santa Ana. Many of his friends did not fare as well as he did. Some of his peers were involved in gangs or drugs, or dropped out of school. He recalls how difficult it was to live in such a violent environment.
Sok praises the work of The Cambodian Family (TCF), a multi-ethnic human services agency that has served refugees and immigrants for more than 30 years, for making a difference in Santa Ana. "TCF is valuable part of the community. It's so vital to keeping the Khmer community alive," said Sok, "even though [Santa Ana] is a lot smaller than Long Beach." He jokes it was almost a guarantee that his parents knew the parents of anyone whom he heard speaking Khmer in Santa Ana.
As the only Cambodian nonprofit agency located in Orange County, the organization has been fundamental in helping Cambodians fathom their standing in society. Sok sees parallels between the endeavors of TCF and Angkor Clothing, in that his business has put him in better contact with fellow Cambodian Americans.
"Like TCF, Angkor clothing opens the door to conversation," said Sok, "and [shows] that if put your mind to it and have a huge support anything is possible." He keenly feels the responsibility of bearing the name "Angkor" and making the Khmer community proud.
In 1994 his parents moved to their Costa Mesa home, where he continues to operate Angkor Clothing out of the garage. Currently, in addition to building his business and going to college, he works as a pharmacy technician.
Despite some setbacks, including running out of funds for new materials, equipment, and supplies for the first several years, he kept investing his own money to keep the business going. Now that his company is profitable, Sok wants to give back to his community, share his success, and build a legacy. He has generously donated merchandise to be auctioned to benefit The Cambodian Family Achievement Center.
"I want these kids and young people to be able to have a safe place to be. The Cambodian Family is such a great community center, and I'm glad to be able to support [its] fundraising efforts."
The upcoming fundraising banquet will include a silent auction, as well as recognition of Congresswoman Loretta Sanchez, Dr. Nak Chhiv, and Capitol Group Companies for their community service. Scheduled for the evening's program are performances by The Cambodian Family Dance Troupe, with Long Beach singer Phanith Sovann as stage host.
What: The Cambodian Family Annual Fundraising Banquet
When: September 27, 2012, 6:00-9:00 pm
Where: 1626 E. Fourth St. Santa Ana, CA 92701
For more information and to RSVP, please call Armen Bazikian at (714) 571-1966 ext. 104 or visit http://www.cambodianfamily.org.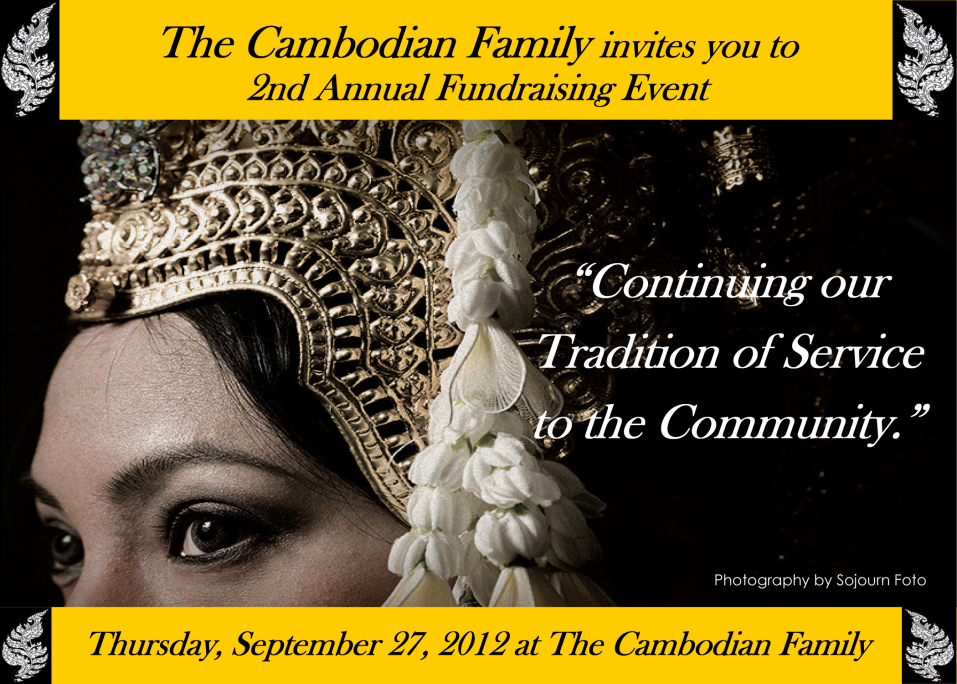 ___
Sophin Zoe Pruong-McCreery is a contributor for the Khmerican. She is the co-founder and editor of Khmericana Blog.